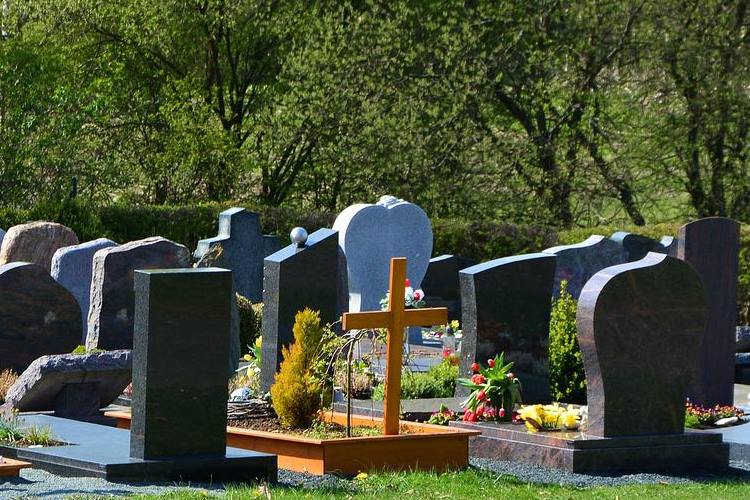 There are lots of different shapes of headstones in Colorado. If you're currently considering which headstone you should buy, it's important to be aware of these different options so you can make the best choice for your loved one.
The headstone for a grave is the most important way to memorialize someone, and the shape you choose is one of the primary considerations. Below we're going to talk through the most common options.
Grave Marker Shapes
Grave marker shapes can be incredibly simple or greatly ornate. Here are a few typical shapes.
Rectangle
Rectangular, flat grave markers are (unsurprisingly) the most popular option.
They're the cheapest and are made out of stone or metal. They're easy to engrave into as well.
Bevel
Bevel frames add something extra to the design of the headstone. Bevel grave markers are either rounded or rectangular and have a beveled frame around them, as the name suggests.
The frame makes the grave marker more appealing and adds texture.
Floral
Now there are even grave markers that are shaped like a flower. This is because flowers are a symbol of mourning.
When you shape the marker like a wreath or flower, it's an ongoing act of memorialization.
Oval or Circle
Besides rectangles and squares, ovals and circles are the most popular grave marker design.
They're a bit more gentle than a rectangle because they don't have any angles. Oval grave markers are usually used for children or infants to symbolize innocence, but can be used for anyone.
Upright Headstone Shapes
Upright headstones are probably what you think of when you envision a classic headstone.
Square Top
Square top headstones are self-explanatory. They're headstones with a flat top that makes a square.
Square top headstones are popular owing to the simplicity of their design.
Raised Shoulder
Raised shoulder designs are relatively new. They're reminiscent of the square top headstone, but they have a raised shoulder on one of the sides.
The raised shoulder is a raised square on the top edge, to the side. It can be engraved with a design or remain plain.
Checked Top
Checked top headstones are similar to square top headstones, but there is also an upper part inside the square that's raised.
This makes a dramatic, angular shape. It's a new twist on a traditional headstone design.
Oval
Oval headstones are one of the most common kinds you'll come across and is a rather traditional option.
Nowadays they aren't as popular as they were in the past, but they have a timeless feel and pair really well with stone.
Oval With Shoulders
Another timeless choice is to get an oval with shoulders. It's the same as an oval top but it's raised up on the sides, creating shoulders.
You can find lots of these in most older cemeteries, but they remain a common choice to this day.
Gothic
Gothic headstones are an option that can't be overlooked. They have an oval top with a point in the middle. This makes it look like a piece of architecture from the gothic era.
Half Round
Half round is similar to an oval headstone, but the design is a bit more dramatic. The whole top half is round, making a larger curve.
This is one of the more modern shapes of headstones for graves.
Unique Headstone Shapes
Unique shapes really help to differentiate the grave from other graves located in the cemetery.
Book
Books are a very common flat marker shape. They look like an open book with engravings on the pages.
Scroll
The scroll usually appears as a flat marker and occasionally as a standing headstone. It looks like an ancient scroll.
Scrolls are usually made out of stone and look very realistic. They tend to have more than one name engraved onto them.
Cross
Crosses have been used as gravestones and grave markers for centuries and are still very common. The shape can be used standing upright as a headstone or flat as a marker.
Other religious symbols can be used too.
Bench
Some people are memorialized on benches. Usually, there's a plaque on the back side of the bench that talks about the person.
Memorial benches are a great way to honor a person's memory because every person who sits on the bench will be part of their legacy.
How to Choose the Right Headstone Shape
With so many headstone shapes to choose from, how do you know which is right for you?
Rules of the Cemetery
Certain cemeteries have rules about what kinds of gravestones, markers, and plaques they allow. Rules include material and size restrictions.
Budget
Like most things in life, budget is most likely a factor when choosing your headstone shape. If you're on a tighter budget, flat markers are the way to go. But if you aren't worried about headstone prices, an upright headstone is an attractive option worth considering.
Engravings
Something else to think about are engravings. Typical engravings include name, DOB, date of death, and either an epitaph or prayer. Depending on how much you want to write, the shape may have to change.
Meaning
It's important to have a shape that means something to you.
Closing Thoughts From Our Tombstone Engravers
Clearly, there's more than meets the eye when it comes to headstone shapes. It doesn't even end at these 15 options. There are lots more that headstone companies like ours can offer. Many will be able to produce custom headstones tailored to your exact needs and wants.
There's the perfect shape out there to memorialize your loved one. All it takes is a little bit of research and some careful thought. If you are in Colorado, we can help you make that decision.